Greeting Cards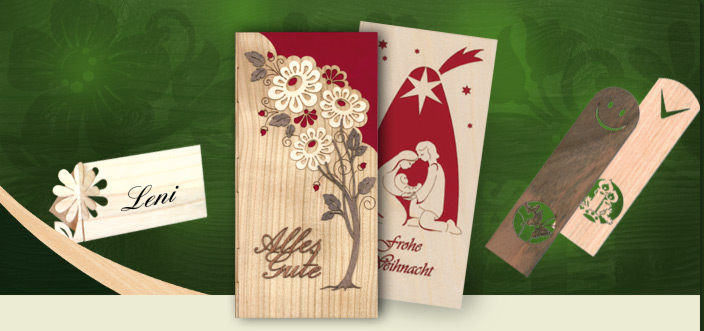 Congratulatory cards, table cards, puzzle cards or name tags are mainly made of paper in all colors and shapes. However, only a few succeed in processing noble woods in such a way that the beauty of the grain is fully appreciated, but the material remains stable and durable.
Read more
Through a special process, we can process plywood in such a way that we can work out even the finest details and structures from 0.3mm thin wood layers. By combining different types of wood in different levels, interesting effects are achieved which are unparalleled.
Postcards from veneer have DIN-long format are fully post-dispatchable. In addition, the woods come from sustainable forestry and thus contribute to the protection of forests around the world.
With cards from real wood veneer, your wishes and greetings will receive special attention and you will remember well with your addressee.
Ihr Browser erlaubt Cookies um diese Webseite im vollem Umfang nutzen zu können. Wenn Sie diese Webseite weiter nutzen ohne Cookies in Ihrem Browser zu sperren oder Sie "Akzeptieren" klicken, erklären Sie sich damit einverstanden.