Nutcrackers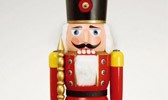 For opening nuts, the tools have been used for decades. These are mostly tong-like tools, which are equipped with lever arms. Already in the early antiquity were mentioned the first decorative nutcracker. They were also found in bronze graves. Already in the 16th century they were made of wood. In the 18th century, the right triumph of nutcrackers in Bavaria began. Here mostly oriental motifs were represented. In Tyrol one made funny jokes. Read more
">In the Erzgebirge, on the other hand, unemployed miners have made their needs a virtue and turned them, so that they can better defend their livelihood.
The nutcrackers looked very angry and had a huge mouth opening. The nutcrackers, which came from the Erzgebirge, should be respectful. There are usually kings, soldiers or gendarmes in the motifs from the Erzgebirge. The Erzgebirge nutcracker was sold many years later on the domestic markets at the Christmas time and earned thereby good money. In the course of time the cracking of nuts played an ever negligible role, the products were rather toys and found themselves very often among the Christmas trees. Even today, they are a symbol of wonderful Christmas feel-good-mood and they are also popular all over the world.
The cookie settings on this website are set to "allow cookies" to give you the best browsing experience possible. If you continue to use this website without changing your cookie settings or you click "Accept" below then you are consenting to this.