Musical Boxes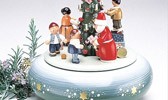 The musical boxes from the Erzgebirge have a distinctive sound as well as an elaborate design and are very special pieces of genuine Erzgebirge folk art. The cans, which are decorated with miniature worlds such as the birth of Christ or the world of fairy tales and legends, enchant generations. Dive into the beautiful world of cans from the Erzgebirge and be enchanted by our unique wooden products.
Read more
Our cans are always a festive decorating idea that you can not only put on Christmas. With these handmade cans, both young and old alike have fun. The game cans create miniature worlds that flatter the eye and ears. The music boxes were already very popular in the past, which is not surprising, because every music box has always told its own story and has a touch of magic. They have an immeasurable charm and are always happy to prepare every generation. Each individual game box is distinguished by its finished design as well as by its excellent sound quality and precision mechanics. Very popular are game canes that pay homage to the seasons, or the souls of the Christmas season. Musical toys are also provided with charming angels, which are sent to a harmonious sounding circular course. Let our music boxes lead you into a different world and stimulate your imagination.
The cookie settings on this website are set to "allow cookies" to give you the best browsing experience possible. If you continue to use this website without changing your cookie settings or you click "Accept" below then you are consenting to this.