Herrnhuter Star - Moravian Star
The original Herrnhuter Stars / Moravian Stars are Christmas stars, which have a long tradition. The Christmas stars are named after the Moravian Brethren, which has its tribal seat in Herrnhut. The stars have been handcrafted for more than 160 years and have been embellishing their own four walls at Christmas time. You have with these stars not just a Christmas star, but the story in your own home. The original Herrnhuter stars consist of a total of 25 points. There are 17 quadrangles and eight triangles. Instead of the 26th zag, the corresponding illumination is introduced at the upper region.
For many people the gentle light of the star simply belongs to the Christmas and Advent season and are hung over the Christmas cribs or above the altar. With some, it also lights up in the window. There are many families where a Christmas celebration without a star would be unthinkable. In the present time the Herrnhut stars decorate many apartments, streets, squares, churches and social facilities in the Advent and Christmas season. The paper stars are still made by hand. In the meantime there are also stars for the outdoor area in Herrnhut, but also the so-called summer stars for the terrace or for the garden, which are made of plastic.
More information about the original Herrnhut Stern on the blog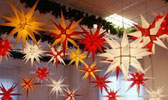 Show Filters
Showing 1–20 of 168 results
Showing 1–20 of 168 results