moravian Star of Paper
The original Herrnhut stars adorn many apartments, churches and squares in the Advent and Christmas season. For more than 160 years, they have been handmade in a variety of sizes and colors, each of which has 25 peaks – 17 square and 8 triangular.
The traditional Herrnhuter stars made of paper are available in 5 different sizes between 13cm and 40cm diameter as well as in 7 different colors.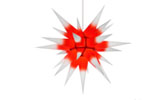 Show Filters
Showing 1–20 of 32 results
Showing 1–20 of 32 results