Christmas Arches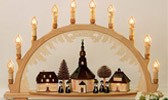 The Erzgebirge arches are closely related to the history of the Erzgebirge. The miners have barely seen daylight, especially during the winter season. Therefore the candles should satisfy their longing for light. The existing motifs, which are on the arches, originate simultaneously from the world of the miners, even if the oldest arch suggests rather that the arc of the arc predominantly symbolizes the sky arch. These arches were either decorated with the sun, with the moon or with theRead more
stars. Other arches show the form of the entrance of a mine tunnel.
The depictions of our arches preserve the traditional motifs and show, for example, mining scenes, as well as Christian and scenic subjects. In today's world, the arches of Christmas decorations are hard to imagine. The candle-lit arches illuminate the windows of very many houses during the Advent season. In the majority of cases electronic bulbs are used for the security arcs. The traditional arches feature high-quality workmanship and safer lighting. You can get the arcs in two- or three-dimensional representations. We offer you different sizes and motifs, so we are sure that you will also find the right lights, which will dive your windows in a beautiful bright light at Christmas time. You will also find magnificent arcs with soundelectronics, which not only enchant you with their beauty but also their sound.
The cookie settings on this website are set to "allow cookies" to give you the best browsing experience possible. If you continue to use this website without changing your cookie settings or you click "Accept" below then you are consenting to this.