Star A1e, singelstar ca. 13cm Ø
Comes ready assembled.
Incl. Incandescent lamp E10 6.3 V / 0.3 A (10 + 28mm), socket and cable (2 m) for connection to a power supply unit
Only for indoor use
For lighting, a separate power supply is required for 6V. Please order separately – see accessories.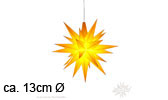 Show Filters
Showing 1–20 of 24 results
Showing 1–20 of 24 results