Smokers
Our funny smokers from the Erzgebirge have different names. They are also sometimes referred to as incense figures or as a smoking man. However, it does not necessarily have to be a male specimen. It is also happy to present women or objects, but they do not influence the product name Räuchermann. In the Erzgebirge tradition, the smokers are an integral part of the Erzgebirge folk art. Especially during the Christmas season the smokers are very popular. The first smoker was mentioned between 1820 and 1830. The smokers are an invention of the Erzgebirgisches Spielmacher and serve to burn incense candles or smoke cones. After the lighting, the pleasant smell of incense candles spread in the domestic room. For the smokers you can get a variety of different incense candles with us. The standard aromas are, for example, coffee, lavender, tannin, violets, honey, lemon, orange, coconut, Christmas fragrance or incense.
The idea of ​​making smokers came due to the increasingly popular tobacco. The living pipewarmers were first used as a model and, in former times, for certain parts of the body, skinning chalk or sawdust was used. Later the wood became the most popular material of the smokers. Nowadays you can find the smokers with almost endless designs and motifs. This is not surprising, as they are one of the most popular figures the Erzgebirge folk art has to offer.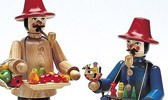 Show Filters
Showing 1–20 of 1141 results
New!
Out of stock
New!
New!
New!
New!
New!
New!
New!
New!
Out of stock
New!
New!
Show Filters
Showing 1–20 of 1141 results