Smoking Houses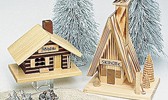 The Erzgebirgische smoke houses not only belong to us in the Erzgebirge for Christmas. Also in other regions they are quite common and popular. The smokers' cabins with the small smoky companions offer a fine scent, which belongs especially to the beautiful time of Christmas.
Read more
The smoking houses are an increasingly popular alternative to the smoker. In our very elaborately designed smoking houses you will find many exclusive details, such as a small forest worker who works with his chain saw diligently the tree trunk or the piggy, the wooden pile, the wooden holster with peaks or the celebration evening bench in front of the hut. The smoky houses have an excellent appearance due to the natural shades of dark lacquered roofs. For use with the incense plugs simply remove the house and place the ignited incense candle on the corresponding candle holder and then put the house back on. The escaping smoke coming from the smokestack's smokestack fills every room with a fragrant and pleasant smell. Let your rooms shine with a Christmas scent and enjoy the great view of the lovingly crafted smoke houses. Our cottages are of impeccable quality and are unique in their manufacture. With a lot of love for the detail, our smoking houses are truly unique and are also a wonderful gift for Christmas.
The cookie settings on this website are set to "allow cookies" to give you the best browsing experience possible. If you continue to use this website without changing your cookie settings or you click "Accept" below then you are consenting to this.